Emerald Bay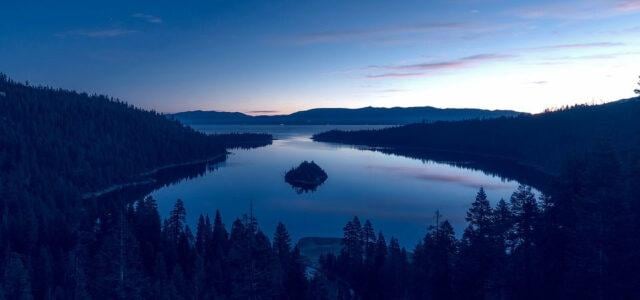 Twelve miles north and west of South Lake Tahoe lies Emerald Bay, a deep granite basin carved by glaciers, landslides, and lava that oozed down from volcanic vents thousands of years ago.
It's breathtaking. Mark Twain described the bay as "the fairest picture the whole earth affords." The U.S. Department of the Interior named it a National Natural Landmark in 1969.
Originally home to the native Washoe Tribe of California and Nevada, the area was changed radically during the gold- and silver-mining rush between 1848 and 1862.
Today, Emerald Bay is an amazing place to discover, with plenty to do. Where should we even start?
Check out the hiking trails and lots of great flora and fauna in Emerald Bay State Park. You can breathe in the vanilla-scented bark of the Jeffrey pine. You'll see chipmunks and Steller's jays feeding among the huckleberries. You might even spot an osprey or bald eagle fishing in the bay. Take in a view from Inspiration Point, 600 feet above the lake.
Emerald Bay was California's first Underwater State Park—that's right, it's a shipwreck preserve! It's the resting place for numerous boats, launches, and barges dating from before the turn of the last century.
Emerald Bay contains the only island in all of Lake Tahoe. For the past 100 years, it's been called Fannette Island. (This name appears to have stuck. Before that, it was also known as Eckley's Island, Coquette Island, Baranoff Island, Dead Man's Island, Hermit's Island, and Emerald Isle!) The islands most mysterious inhabitant, Captain Dick Barter, "The Hermit of Emerald Bay," lived on the island in the 1860s. In 1873, his boat was found abandoned at Rubicon Point. Barter was never seen again.
In 1929, philanthropist Lora Knight built a stone "tea house" atop Fannette Island; you can still see its ruins today. She also built a 38-room Scandinavian-style castle called Vikingsholm. It's a steep 1-mile hike, but you can visit and explore this incredible mansion.
You'll have to manage your time carefully between swimming, kayaking, or scuba diving during warm weather. There are museums and interpretive exhibits, scenic paddle-wheel boat cruises, and so much more!