D.L. Bliss State Park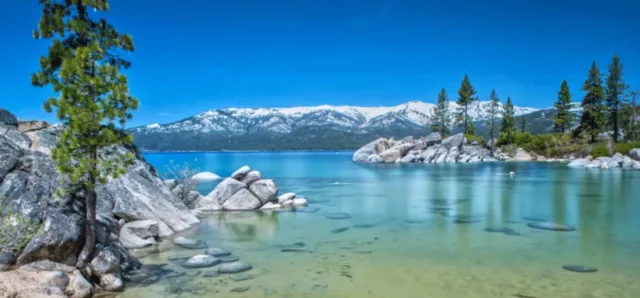 Duane Leroy Bliss was an interesting guy. Born in 1833, he left his home in Massachusetts at age 13 to become a cabin boy on a ship bound for South America. Not long after that, he was drawn to California—like so many others—by the gold rush.
But he succeeded where others didn't. He formed a mining company and dealt in timber, ships, barges, banking… even a railroad.
Fast-forward to 1928. His family donated 744 acres of his land to the California State Park System. You can see this extraordinary place today. And you should! In fact, when you're way up atop Rubicon Point (the site of an old lighthouse—oooh!) in D.L. Bliss State Park, you can peer over 100 feet into the depths of Lake Tahoe. Amazing!
There's lots to do at the park. We're talking hiking, swimming, kayaking, canoes, picnics. There's the trail to Balancing Rock. And, in the warmer weather, there's plenty to see beneath the water of Lake Tahoe.
D.L. Bliss is an official underwater park. The water is cold and clear. The underwater geologic formations are spectacular. That's why it's ranked as one of the world's most beautiful scuba dives.
If you're heading to Lake Tahoe, include D.L. Bliss State Park on your must-visit list. Better yet: include it as part of your Ultimate Lake Tahoe Adventure from Extranomical Tours!