California State Route 1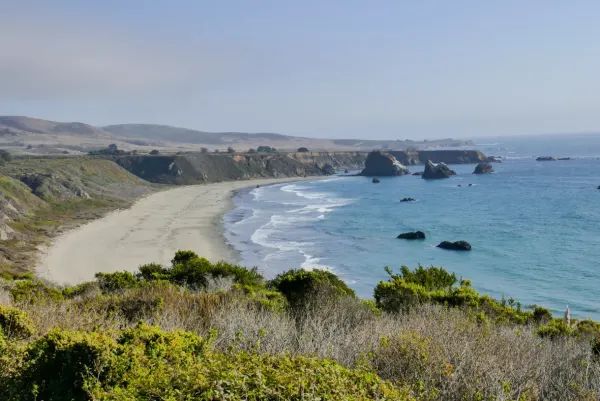 California State Highway 1, also known as the Pacific Coast Highway, is a breathtakingly beautiful roadway that winds its way along the rugged coastline of California, offering stunning views of the Pacific Ocean and the surrounding landscape. This iconic highway stretches for over 600 miles, from Leggett in the north to Dana Point in the south, and is one of the most scenic drives in the world.
Along the way, visitors can enjoy a wide range of attractions and activities, from exploring quaint coastal towns and indulging in delicious seafood to hiking along scenic trails and taking in the stunning coastal vistas.
One of the most popular stops along the Pacific Coast Highway is the famous Bixby Bridge in Big Sur. This iconic bridge spans over 700 feet across a deep canyon and offers spectacular views of the rugged coastline below. Visitors can stop at the bridge's pullout area to take photos and soak in the stunning scenery.
Another must-see attraction along the Pacific Coast Highway is the Point Lobos State Natural Reserve. This beautiful park is home to a wide range of wildlife, including sea lions, harbor seals, and a variety of bird species. Visitors can hike along scenic trails that offer sweeping views of the coastline, or enjoy a picnic at one of the park's many picnic areas.
For those interested in history, the Hearst Castle is a must-visit destination along the Pacific Coast Highway. This iconic mansion was built in the 1920s by newspaper magnate William Randolph Hearst and features a stunning array of art and architecture, including European antiques, Renaissance art, and intricate gardens and fountains.
In addition to its many attractions, the Pacific Coast Highway is also home to a wide range of delicious seafood restaurants, quaint bed and breakfasts, and charming coastal towns. Visitors can stop in towns like Santa Barbara, Cambria, and Carmel-by-the-Sea to explore local boutiques and art galleries, or simply relax and enjoy the laid-back coastal lifestyle.
Overall, the California State Highway 1 offers an unforgettable journey through some of the most breathtakingly beautiful landscapes in the world. Whether you're interested in hiking, sightseeing, or simply relaxing and enjoying the scenery, the Pacific Coast Highway is a must-see destination for any traveler to California.