Have you been desperately looking for an ultimate retreat? Well, we have a perfect destination for you. You should go to Tahoe and surrender to its magic. What an exciting time to enjoy its astounding natural beauty without all that annoying traffic and crowds! Now you get a chance to see how the area is gradually transforming from a favorite skiing destination to a popular summer vacation spot with an ideal temperature for getting some tan (don't forget your sunscreen), and for engaging in thrilling outdoor activities (don't forget your shades). Hiking, biking, swimming, parasailing and riding insanely cool ATVs – you can do it all here! Tons of excitement!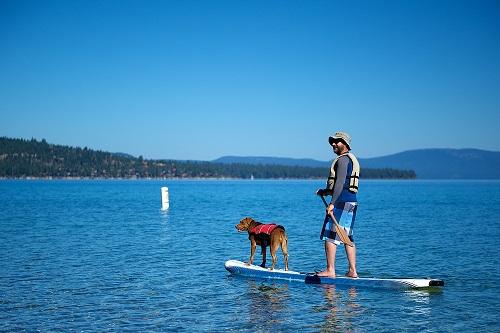 An active lifestyle is helpful but not required for having fun in Tahoe. Now is also a perfect time to see all those colorful plants popping up their curious little heads: phlox flowers, mule's ears, cat's paws, crocuses and groundsels are among the early risers. It's a paradise for eco-tourists! You will be stunned by the splendor of the Baldwin and the Frederick's Meadows. So go ahead and check them out before all the blooms are gone.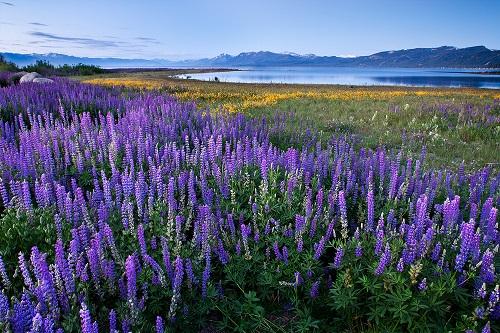 The picturesque scenery gives you plenty of opportunities to snap shockingly beautiful pictures. Remember how you feel when you scroll down your Instagram or Facebook feed, and it looks like everyone else around you is taking selfies while hiking, biking or boating non-stop? Now is your chance to shine! Start with waking up crazy early to catch a fantastic sunrise. The moment will feel surreal! Discover miles of hiking through the verdant hills, bike along the Meek's Bay and the Tahoe Rim trails, paddle in the lake, or just read a book on the beach and have lunch at a fancy restaurant. The options of replenishment are limitless. So get your camera ready and keep your phone fully-charged at all times. It's going to be epic!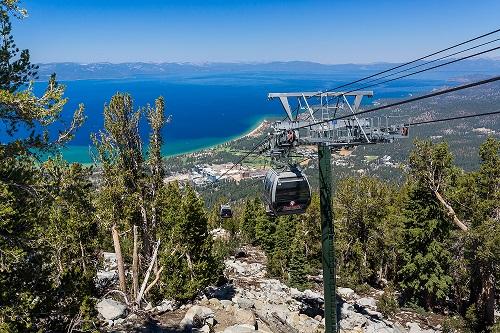 Folks who want to get far above the shoreline without any strenuous activities can take a ride on a Squaw Valley Alpine Meadows Aerial Tram to see the gorgeous Squaw Valley from above, and hop on a gondola at the Heavenly Ski Resort to savor a perfect view of Lake Tahoe's deep blue waters and the towering peaks of the Sierra Nevada.
Oh, and don't forget to slow down for some stargazing at night… Very romantic…
And now – drumroll, please – we've put together a list of the top 8 places to visit in the area:
1. Lake Tahoe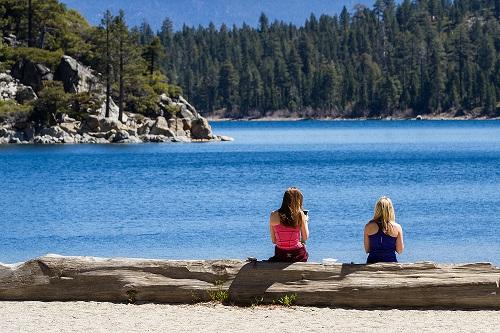 It's a no-brainer – this lake is definitely a must-see! Have you read Mark Twain's book of travels "Roughing It"? Sure you have. Remember how he called Lake Tahoe "the fairest picture the whole earth affords"? So true… Shimmering in myriad shades of blue, the grandiose lake spreads its wings along the state line between California and Nevada. Some accuse Lake Tahoe of having a split personality: the Nevada side of its shores lures visitors with its glittering casinos and nightclubs, fancy restaurants and boutiques, while another side offers kid-friendly entertainment and active sports opportunities.
We like the fact that this place allows everyone to do what they like most. You can hit the bar or indulge in a delicious feast at a local restaurant, or spend a couple of hours at a local casino. Looking for some more intense pursuits? No worries. You can get a paddleboard at Kings Beach and explore the magnificent lake at your own pace, or opt for the parasailing adventure above the Lake Tahoe's sapphire water. No matter what you choose, you will feel fantastic!
2. Emerald Bay State Park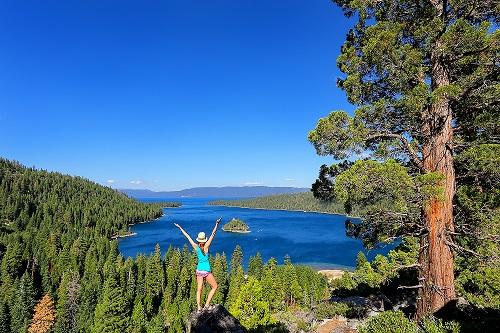 Join the energetic folks who are obsessed with hiking at the Emerald Bay State Park. Walk off the carbs on a scenic Rubicon Trail that wraps around Emerald Bay, with trailheads at the Eagle Point campground, Vikingsholm and DL Bliss State Park. The trail will challenge you with its undulating elevation gains and drops and twists along the phenomenal cliffs that will encourage you to show off some of your rock climbing skills. The splendor of the natural beauty of this unique glacial park will make it one of the most unforgettable highlights of your trip.
3. Vikingsholm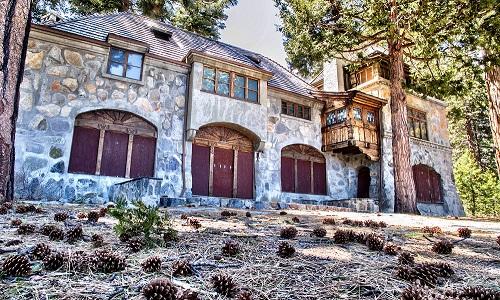 For a perfect weekend getaway experience, do some effortless sightseeing at Vikingsholm, the finest example of Scandinavian architecture unexpectedly hidden in a fjord-like setting in the Lake Tahoe's Emerald Bay State Park. While exploring the grandeur of this absolutely stunning historical estate, keep an eye out for the rare Scandinavian antiques that are on display there. It's a gorgeous place with so much character!
4. Eagle Falls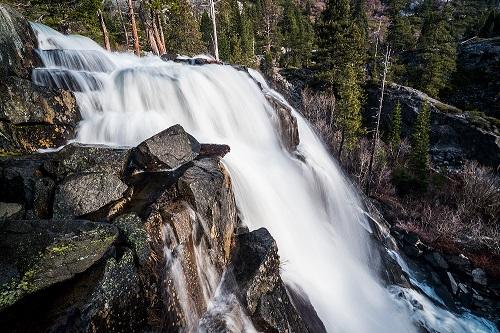 The best way to get to the Eagle Falls is to hike from the Vikingsholm. The Eagle Falls are actually two falls, Upper and Lower Eagle Falls. Both of them should deservedly be on your list as a must-see stop. Hiking to the Lower Eagle Falls is relatively easy, as the trail is well-maintained. For first-timers, the climbing steps to the Upper Eagle Falls may seem to be a little too steep but, trust us, they are manageable. Wear appropriate shoes and you'll be fine (no flip-flops please). If you decide not to do the hike to the Upper Eagle, you are missing out. The view of Emerald Bay from the top is amazing! WOW! The magical roar of the water will wash your stress away. Capture the moment, share it with your friends and inspire them to add a hike to Eagle Falls to their bucket list.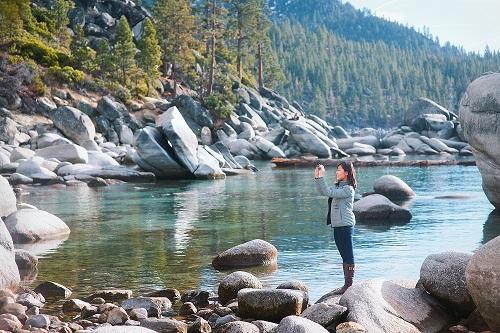 5. Tallac Historic Site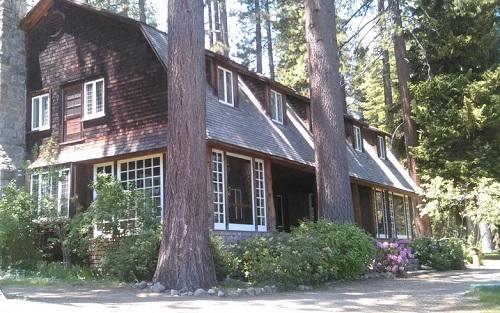 To step back in time and see how different things were in the early 1900s, visit a true gem of Tahoe – Tallac Historic Site. The property itself is magnificent, and it's located right on the shores of the picture-perfect lake. The two beautiful homes (built by a wealthy family a long time ago) create a perfect oasis of calmness. Have a zen experience there while strolling peacefully along the quiet paths, through the verdurous lawns and blossoming flower gardens, and around the serene ponds with handcrafted gazebos. Take all the memories of this magical place with you!
6. Lake Tahoe Historical Society Museum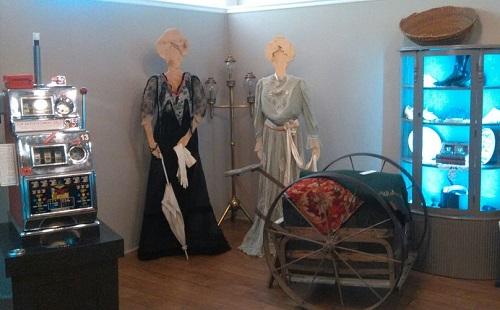 If you are a big history buff, it's a fascinating place to visit! This lovely small museum is packed with artifacts (antique tools and sporting goods, wagons, a classic slot machine and even a historic cabin from the early-1900s!). History nerds will find tons of information about tremulous gold rush times, railroad building endeavors, and other significant events that shook up the area. By taking time to understand the past, you will be able to gain a better understanding of the present.
7. Taylor Creek
For those perpetually on a quest for a closer view of the local flora and fauna, exploring the Taylor Creek's ecosystem might be a good idea. Start by walking along the paved trails throughout the marshlands. Who can you bump into there? Raccoons, bats, frogs, butterflies, crayfish, slugs.
Do you happen to have a passion for bird-watching? Then you probably know that spring is the "birdiest" time of a year because it is a season when birds are migrating through. Western Tanager, Dark-Eyed Junco, Yellow-Headed Blackbird, Mallard, Canada Goose, Steller's Jay, Red-Tailed Hawks, Golden and Bald Eagles are frequently seen in the area. Don't lose your focus – you snooze, you lose!
8. Ed Z'berg Sugar Pine Point State Park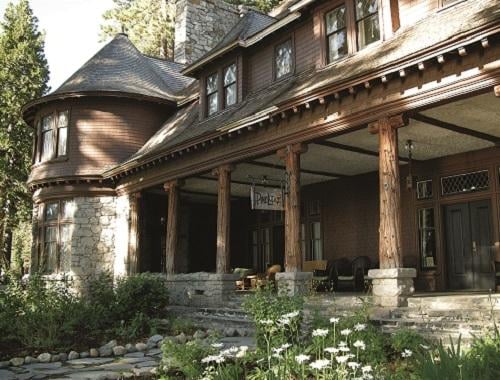 Located on the shores of gorgeous Lake Tahoe, this stunning park with its 2,000 acres of dense aspen, pine, fir and juniper trees once served as a summer vacation destination for wealthy families. Perhaps the most-attended spot in the park is the Hellman Ehrman Mansion solemnly standing surrounded by the trees. You can take a tour of the house, and then hike in the park (no kidding, 12 miles of trails!) or try your hand at fishing in the nearby streams. This can be one of the most fascinating experiences of your life.
No matter what season, there are always plenty of things to do and places to visit in Tahoe. This trip knocks out a bunch of your bucket list items all at once! When you get back, be sure to share all of your amazing travel stories and photos with everyone. You will radiate vitalizing energy and joie de vivre that is so contagious.
So, if you're determined to make a vacation happen this year, you need to start acting right now. Give us a call at 866-231-3752 if you are interested in booking Lake Tahoe bus tours from San Francisco or Lake Tahoe tours from San Jose. Check out our website for more information on tours from San Francisco.
Photo: Courtesy of http://newtoreno.com; https://sierrastateparks.org; https://www.sierranevadageotourism.org
Published on: May 15th 2018