San Francisco Dining Guide
San Francisco Dining Guide
Besides being a great place to visit and see the sights, San Francisco is known for its great restaurants, and with good reason. There are more of them here (per capita) than almost anywhere else in America. There are hundreds of restaurants representing cuisine from around the world, including Chinese, Italian, Mexican, Japanese, Thai, Russian, French, Indian, Vietnamese, Irish, and on and on. Whether it's steak on a white tablecloth, or pizza by the slice, you can find almost anything you want to eat in San Francisco. The following is a brief Dining Guide of the best known neighborhoods in San Francisco and why you might want to visit and find something to satisfy your appetite.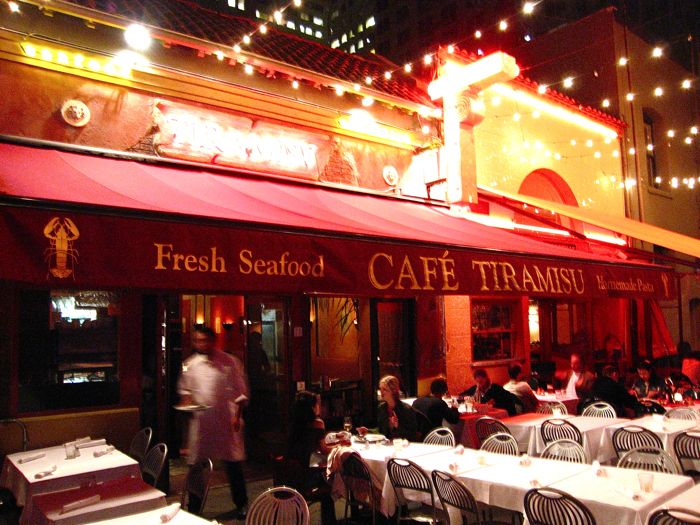 Chinatown Dining Guide
If you look at a map of San Francisco, you will see Columbus making a diagonal to the northwest, crossing the streets running north and south. Chinatown assumes a wedge shape south of Columbus and ranging east to west from Kearney to Powell. The famous Grant Street Gate is where many people start their Chinatown walking tours. After a few blocks of tourist shops, you might want to branch out and explore the side streets. The tiny little alleys and side streets are a walking explorer's delight, full of interesting and exotic shops. (Look for the Fortune Cookie Factory at 56 Ross Alley.)
1300 Stockton St (at Broadway)
Affordable, and friendly - not fancy.
(415) 982-6020
This is really the heart of Chinatown, not Grant Street! Great reviews from the "after the bars close" crowd, because they're open late. Seafood, noodles, and egg dishes rate highly.
919 Kearny St (at Jackson)
Affordable, be ready to wait outside!
(415) 421-1429
This may be the most popular small restaurant in San Francisco. You might have to step over a box delivered this morning, and the menus look like they're from the last decade. The owners are the servers, and they usually order for you, but who cares? It's all great Chinese food, and very affordable. That's why there are lines outside!
North Beach Dining Guide – our version of Little Italy
The Gold Rush brought sailors from many countries, especially Italy, and many of them stayed here to join or start fishing businesses, and Columbus Avenue was a straight line between the large ships and the fishing boat. Italians congregated here and started restaurants to feed each other. If you have never strolled Columbus on a weekend night, then you haven't really been to San Francisco. There are people everywhere, and amazing restaurants, bars, coffee shops, and more gelato and pastries than you could consume in a lifetime. I tell people that you can't really go wrong by choosing an Italian restaurant on Columbus, or nearby. So rather than review each Italian restaurant, we'll just list a few good ones and you need to get out there and do the stroll! Start at the Transamerica Pyramid, and head uphill past Niebaum-Coppola's restaurant, founded by the famous director, and the world famous City Lights Bookstore, and if you haven't eaten already, at Broadway, you're sure to find something in the next few blocks.
1512 Stockton St (at Columbus)
Luxurious, above $40, huge wine list
(415) 392-1700 Fax: (415) 421-4489
The Stinking Rose
325 Columbus Ave (uphill from Broadway)
Garlic Bread, Garlic Entree, and Garlic Ice Cream!
(415) 781-7673
Trattoria Pinocchio
401 Columbus Ave ( at Vallejo)
Tiny, but tasty, sidewalk seating
(415) 392-1472
Fisherman's Wharf Dining Guide
Seafood fresh from the Pacific has been served in San Francisco's world-famous Fisherman's Wharf since before the Gold Rush, when natives paddled out to bring home dinner. When early sailing ships found shelter far away from the breakers, the fishermen needed to start their day close to the Ocean, so the wharf area was established for easy access to dinner. It's been the place to get fresh crab, oyster stew, and the catch of the day ever since. From sidewalk vendors of crab legs to elegant dining out on the piers with the foghorns as accompaniment, if you'd like a meal worthy of King Neptune, then this is the place to start. Scoma's, Alioto's, and Castagnola's are very close together, near the Taylor Street sidewalk with all of the street vendors. And don't forget dessert at Ghirardelli Square, and a coffee at the Buena Vista, right across from the Cable Cars!
Mission District Dining Guide
The first Europeans to live on this peninsula were the soldiers guarding the strait that would become the Golden Gate, and the missionaries who established the Mission of St. Francis in 1776. The "new" chapel finished in 1791 and the cemetery can be found on Dolores Street, and the area east of the Mission is called the Mission District, between Dolores and Potrero, and from 16th street to 25th. This has been the center of Hispanic culture and cuisine in San Francisco for most of 200 years. There are dozens of commercial intersections with hundreds of Mexican restaurants and fresh food markets, with Mission Boulevard being the central axis.